Mediate is a unique hybrid media directory that profiles all businesses involved in media related activities.  It brings together all forms of media companies into one key guide, helping companies select their key media partners. The directory serves as a unique platform for media related companies to profile their products and services in a dependable and user-friendly manner.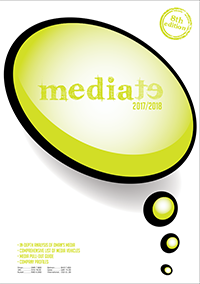 Mediate profiles businesses in the following categories.
Advertising Agencies
Audio and Video Production
Digital Agencies
Events and Entertainment
Exhibition Companies
Market Research and Statistics
Marketing
Media Buying and Planning
Media Houses
Online Portals
Out of Home Advertising
Photography and Modelling
PR Services
Printing and Production Services
Web & Mobile Development
About SABCO Media
SABCO Media is a unique cross-platform of communication media channels in Radio, Outdoor, Digital and Publishing, with aggressive growth initiatives to ensure we offer strategic and cost effective media choices to all our partners. We promise to transform our media into value for all our clients and audiences. Our portfolio of products today includes Al Wisal, Merge, Outdoor Media, Y Magazine, Koooora Wa Bas, and Mediate.
Chief Executive Officer
Eihab A. Abutaha
Director of Sales and Marketing
Feroz Khan
Editorial
Nishad Padiyarath

Coordination & Support
Neil D'Souza
Creative Direction, Layout and Production
Matthew Herbst
Photography
Shakeel Al Bulushi
Mediate is an annual publication published by SABCO Press, Publishing & Advertising LLC.
Mediate is a SABCO Media product.